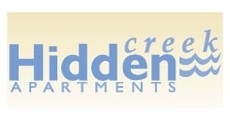 Your Review
Submit a Review

Resident Reviews
|Recommended: YesMaintenance — very quite environment, they need to work on their maintenance .apart from the maintenance hidden creek apartment a good place to live.
|Recommended: YesThis is a great apartment complex. — I would tell them that is the best.
|Recommended: NoRent amount exceeds the quality of the property. — Rent amount exceeds the quality of the property.
|Recommended: YesQuiet neighborhood — its a comfortable apartment with quiet neighbors.
|Recommended: YesOne of the best places to live, Close to everything you need. Grounds are clean and staff is friendly. — Rent is reasonable, Staff is friendly, Grounds are clean. Close to shopping and entertainment. Parking is always open not to far from your front door.
|Recommended: YesI enjoyed my experience at Hidden Creek Apartments. — Affordable and very Comfortable
|Recommended: YesNice and in a clean manner. Everything is so nice. — I like it already, very nice floor plans and nice sized rooms.
|Recommended: NoMaintenance Property Staff — It's a very quiet community and pleasant neighbors, but the inside of the buildings need updates as far as fresh paint and new carpeting and new washer and dryer units. Maintenance never responds in a timely fashion with work orders I've had multiple issues with refrigerators not getting cold and losing food as well as issues with toliet running and putting in multiple work orders before it was taken care of , and rent increases when there hasn't been any updates provided to residents. I feel that the leasing office should be more prompt in handling the needs of the tenants of Hidden Creek Apartments. If rent is given on time and paid within the grace period, I feel that they should be held to a standard of being more professional with making sure their tenants are comfortable with their living quarters and knowing that things will be done in a decent time frame.
|Recommended: Yes
Lack of maintenance — quite apartment but the apartment lack maintenance. they need to work on their maintenance.
Thank you for the review! We will continue to work on our staff and try to provide a better service to our residents!
|Recommended: YesHidden Jewel — Very amazing simple dream life style living. Everything you could want in an apartment for a reasonable price. They make you feel as though you are family from the moment you enter.
|Recommended: YesI love the apartment — It's cozy, I feel safe, The office and workers care about the residents, it's clean and well kept up with, reasonably priced and nicely updated.
|Recommended: YesVery nice place to live. i have very few problems with anything — i enjoy living here. I like that there is a Gym, a Pool, a kids Park and paths to walk. overall, this is a safe and comfortable place to live
|Recommended: YesGood — n a
|Recommended: YesNA — NA