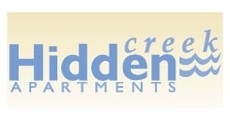 Your Review
Submit a Review

Resident Reviews
|Recommended: YesBest Apartment Community — The staff is extremely friendly and understanding. They are quick to fix any problems that arise and they follow up with you.
|Recommended: YesFriendly, Efficient, with only minor lacking in following through. — very laid back. great balance between price, quality, & location. fun times; like having a chili cook off.
|Recommended: YesGreat place to live,cozy, great staff, good neighbors, nice apartments for low price! — I have to be honest when I first came to check out Hidden creek I suppose the staff was a little busy and weren't able to show me the apartments themselves and so I wasn't very happy with the service, but decided I would give them another try. So upon arriving they were able to show me all the apartment styles that they offered and were very detailed about everything. I moved in within a month and I love it here. Its really quiet you never have problems with the neighbors. I love that the staff always tries to get envovled with the community by hosting little get togethers here and there.The only bad thing I would say is parking is always crowded at times kind of like a first come first serve type. I just re-newed my lease for another year and I couldnt be happier. Pluse you can't beat the nice scenery as well!
|Recommended: YesBeautiful enviroment. Lovely scenery and top of the line employees. — It is Heaven on earth. I especially enjoy sitting outside on my patio with my dog and taking the scenery in.
|Recommended: YesGood Starter apartment. — Its quiet, and reasonably priced, its a nice place to live.
|Recommended: YesA home — Hidden Creek was awesome. I stayed there in 2008 and I loved it. My sisiter just moved in about a month ago and feels the same way. It was always warm and cozy. We had an insect problem and let the staff know. They were very quick to help us. They took care of the problem the same day. If I had to chose I would definitley move back. Gloria is a complete angel and was always helpful. If you ever have a problem she is the person to help.
|Recommended: YesVery helpful — I have had nothing but pleasant experiences here. I was leary about moving into a complex like this but I am very happy. The staff has helped me so wonderfuly when I needed to move to a larger apt. They are just great, understanding and timly when fixing any problems. I would recommend to others.
|Recommended: YesI think it's a great and peaceful place to live. — Right now it's a quiet place to live, it's like living in a house and don't have to worry about the l noise comming from other apartment, and you can sleep peacefully at night.
|Recommended: YesNice apartments,good rates,great staff ! — i would tell them to come by and see Gloria (property manager),take a tour,see the nice settings here at Hidden Creek,watch the wildlife at your window,great place to ride your bike and just get that down to earth feeling,great place to stay,i love it here.
|Recommended: YesThe Most Absolutely Wonderful Place to Live Excellent Staff Great — Hidden Creek is Highly Recommended by Us, One couldn't ask for a Better Place to Live. From the very first moment you meet the Staff, you'll quickly realize, the RaRe Warmth & Friendliness in their approach and dealings with the General Public, they take sincere measurements to make you feel Welcomed & Right at Home. The Staff is Definitely Grade A++, and go the 110% to meet your Family Needs. The Property is kept well groomed, we have on staff maintenance workers on call 24/7, grounds keepers, amenities that will meet anyone's needs. We just love being here, and have been around for several years. How awesome, to have a swimming pool (that is cleaned daily), a work out room, ducks/ fish/ and the landscape of the pond is just beautiful. The Buildings, are well maintained, should you have a concern, they address each one immediately and take instant actions to satisfy and resolve. This along, assures us, that our continued living at Hidden Creek, will be very comfortable, and peaceful. **ONE QUICK NOTE OF REFERENCE*:* WE'D LIKE TO SAY THANKS EVER SO KINDLY TO GLORIA/LORIE/& HARRIET ALONG WITH THE REST OF THE STAFF AT HIDDEN CREEK, FOR PROVIDING A CLEAN/ FRIENDLY/ AND GORGEOUS PLACE FOR IT'S RESIDENCE TO LIVE, WHETHER YOU BE SHORT-OR-LONG TERM... STAY AWESOME~ YOU GUYS ARE ONE OF THE BEST INDIANA HAS TO OFFER :-)
|Recommended: YesI like the apartment complex, the workers — they ae nice and fix things in a timley manor the rent is reasonable the staff is nice nad helpful
|Recommended: YesGreat place to live. — Great layout and design of apartment, friendly staff, excellent location, bike path entrance at apartment building, friendly neighbors.
|Recommended: YesNice place. — I have only lived here for a short time but it has been pleasant, thus far.
|Recommended: YesQuiet and peaceful — They are very nice apartments. I would recommend them.